In order to complete your TaxSlayer Pro Account Hub and to electronically file tax returns with TaxSlayer, you must have a valid EFIN and an IRS Tracking Number issued by the IRS. Your EFIN and Tracking Number can be obtained by logging into your IRS e-Services Account.
Follow these steps to locate your IRS Tracking Number:
Access the IRS E-File Provider Services Page. Select Access e-file Application. If you do not have an e-services account, click Create Account and follow the on-screen prompts.
Enter your username and select LOG IN. If you are an existing e-Services user, but have not registered in the new e-services system, you will be prompted to update your registration. Follow the onscreen prompts.
Enter your password in the space provided and select SUBMIT
A 6-digit security code will be sent to the phone number you provided when you registered for e-Services. You will be prompted to enter your 6-digit security code in the space provided. Select SUBMIT
Follow the onscreen prompts by selecting the CONTINUE and/or SUBMIT buttons until you reach the External Services Authorization Management Page.
Locate your Tracking Number in the list of Applications: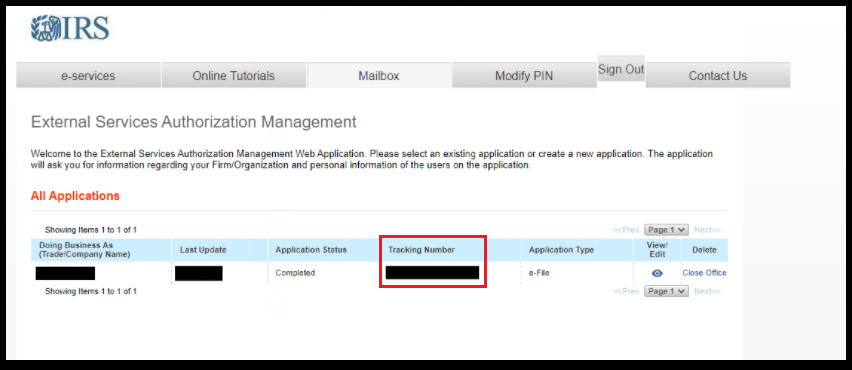 The Tracking Number will contain 16 or 20 digits. Copy the Tracking Number associated with your EFIN into the space provided in the Company Tab in your Account Hub. The Tracking Number will be verified by the IRS to prevent unauthorized use of your EFIN.