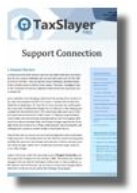 Check out the latest issue of TaxSlayer Pro's Support Newsletter, the Pro Support Connection. In this issue you'll find information on tax breaks due to the CARES Act, information on the new Recovery Rebate Credit, engagement letter best practices and more.
Also included in this issue of The Pro Support Connection are the results of our reader's poll, "Virtual Learning Opportunities" that was featured in our last issue of the newsletter and this issue's poll, "TaxSlayer Client Profile and Practice."
Editor Note: One of the articles in this edition of Support Connect addresses the treatment that Paycheck Protection Loans will be given on the 2020 tax return. At the time that the newsletter was publish the IRS had indicated that any expenses related to the forgiven portion of the loan would not be deductible by the taxpayer. See Notice 2020-32 for more information.
However, with the passage of the Consolidated Appropriations Act, 2021 (which became law on December 27, 2020), Congress reversed this position and stated that no deduction will be denied for any eligible expense that would otherwise be deductible. The Consolidated Appropriations Act also provides that no tax attribute may be reduced and that no basis increase may be denied due to the exclusion from gross income of any debt forgiveness under the PPP.
As a result, Taxpayer will not have to recognize as income any portion of the PPP loan that is forgiven and they will be allowed to expense any item that otherwise was allowable even if it was paid with the proceeds of the PPP loan. The Paycheck Protection article in the newsletter has not been revised to reflect the tax treatment changes due to the passage of the Consolidated Appropriations Act.
The newsletter can be viewed by clicking the link below.
*Adobe Reader is required to view the newsletter.