TaxSlayer Pro Client Reports allows you to generate a report on your individual clients filtered on the criteria you select. The results can be printed to PDF, exported as a CSV file suitable for importing into your spreadsheet program, or used to print labels for mailing or file folders using Avery 5160 or equivalent label stock.
There are several steps to creating and printing a client report:
Select one or more filters.
Select the type of report.
Select whether clients must match all the filters or any filter.
View the report, and if queried select what information to show.
To access client reports, from the Quick Menu of TaxSlayer Pro select: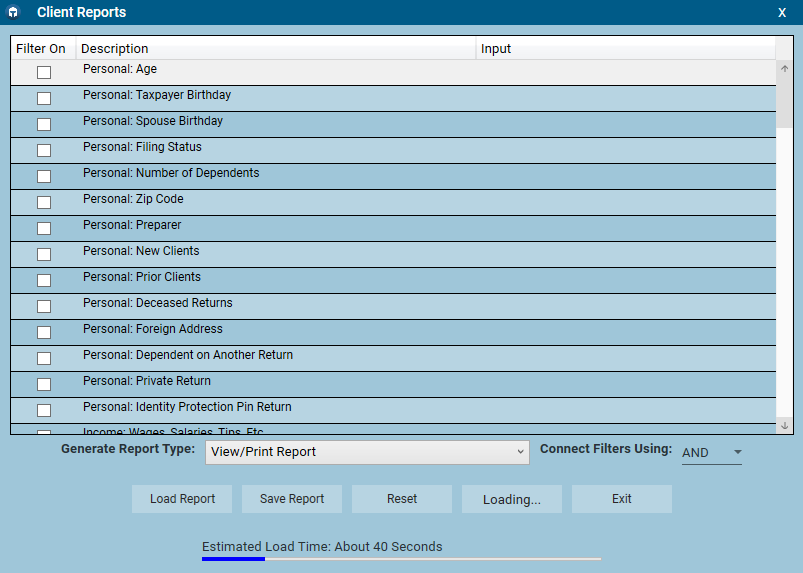 Upon arrival at this window, the program will build the database of information needed for the report. This process can take a few seconds or a minute. The larger your client list, the longer it will take to build the database (note the "Estimated Load Time" for a Client List with many hundreds of returns). Depending on the size of your Client List and the speed of your computer, you may be finished selecting the info you'd like to filter on before the database has finished being built. In that case, you will need to wait a moment to proceed to the next step until it has finished.
There are 90+ filters you can choose from. Some filter on a certain condition, such as the presence of a particular form or schedule, while others filter on a dollar range, such as adjusted gross income.
Note: If a filter asks for a dollar range, don't enter $0 for the minimum unless you are also entering $0 for the maximum, otherwise the filter will likely match more returns than desired. Generally, when a dollar range is needed enter an amount greater than $0 for the minimum.
Generate Report Type - Select how you want the report to generate from the drop down menu: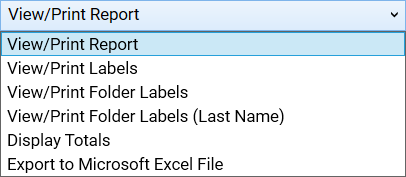 View/Print Report - This option creates a PDF report on standard letter-sized paper in portrait mode. The limited width makes this option suitable for reports printing only a few columns of information.
View/Print Labels - This option creates a PDF sheet of mailing labels.
View/Print Folder Labels - This option creates a PDF sheet of folder labels that include the taxpayer SSN plus the taxpayer and spouse names printed with the first name followed by the last name.
View/Print Folder Labels (Last Name) - This option is the same as above but with the last name first.
Display Totals - This option doesn't generate a report but simply displays the number of clients selected.
Export to Microsoft Excel File - This option generates a CSV file suitable for importing into your spreadsheet program.
Send Text Message - This option is visible only to TaxSlayer Pro Premium users with a Twilio account, allowing them to select clients and send them a text message through the program. (For a client to be included, their tax return must include a mobile number.)
Connect Filters Using - If you have specified more than one filter, indicate how you want them to be applied:
AND - A client must match all the filters.
OR - A client can match any of the filters.