There are two kinds of "Do Not Mail" watermarks that might print on a tax form. Which one are you trying to remove?
"File Copy Only - Do Not Mail"
From the Quick Menu of TaxSlayer Pro select:
Configuration
Printer / Copies Setup
Edit Individual Print Options (for Individual returns)
or
Edit Business Print Options (for business returns)
Uncheck File Copy Print Option for the print option specified in the dropdown menu to the left. In this example, it has been unchecked for "One Copy Federal and State":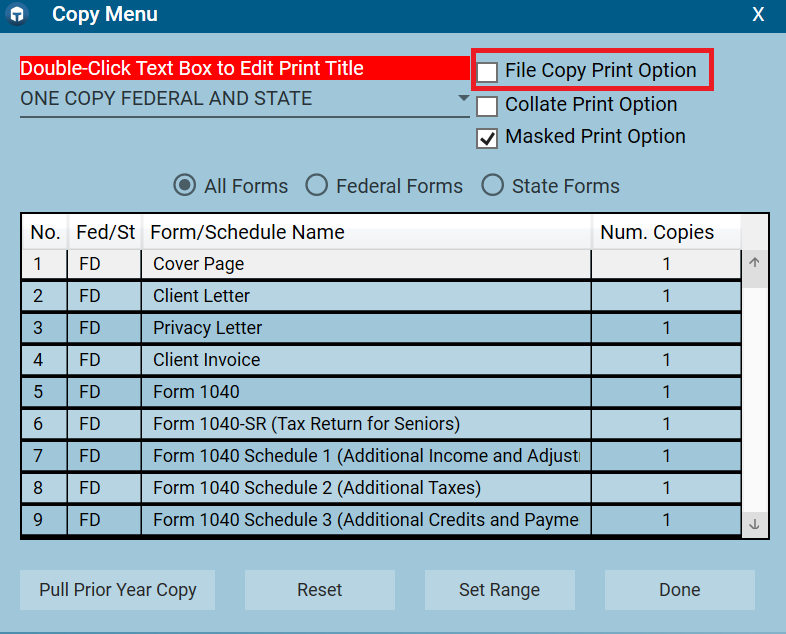 "*** DO NOT MAIL ***" (running vertically down the middle of the form)
This watermark generally indicates that the form is not yet approved for mailing purposes by the taxing authority, whether federal or state. It's not uncommon to see this watermark on some state forms well into the month of February.
Note: This watermark does not prevent electronic filing.
First, make sure you are up to date on the federal or state program using the form. From the Quick Menu of TaxSlayer Pro, select:
Updates
Download / Install Updates
See if an update is available. Download and install it if so. The update may or may not remove the watermark.
Note: If the watermark remains on a state form after updating, then the state hasn't yet approved the final version of the form. The watermark will remain until the state authorizes us to remove it. We cannot provide a specific date for state watermark removal, as timelines vary from state to state.
One more possibility: There are a few state forms that include this watermark when the tax return is marked for e-file to prevent a paper copy from being mailed as well. Remove the return from e-file to see if that removes the watermark.
Questions? Contact TaxSlayer Pro Support at 706.868.0985 or email support@taxslayerpro.com.