The Referral Link for your branded Taxes To Go app is available in Account Hub once you have completed the Taxes To Go configuration.
Log in to Account Hub and select Taxes To Go, either in the left hand menu or by clicking the View button in the Taxes To Go tile: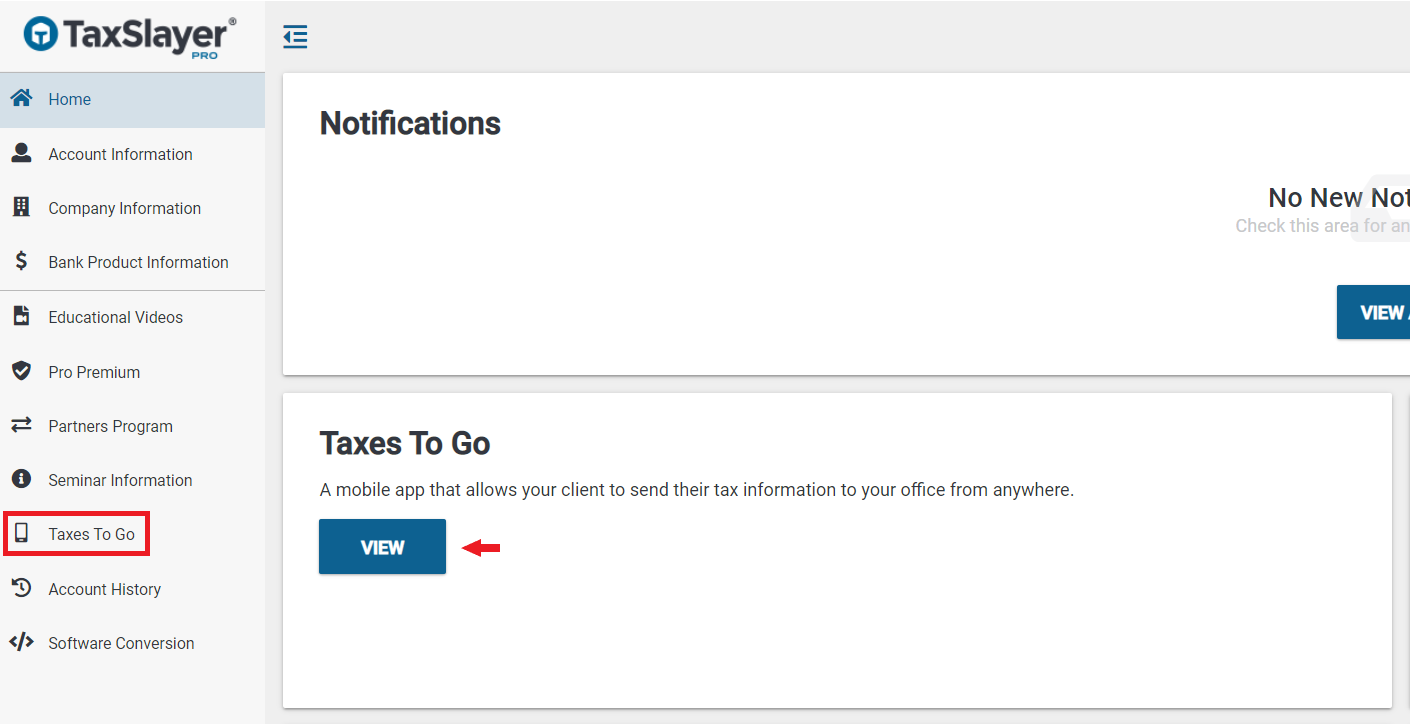 You will arrive at the Taxes To Go configuration menu: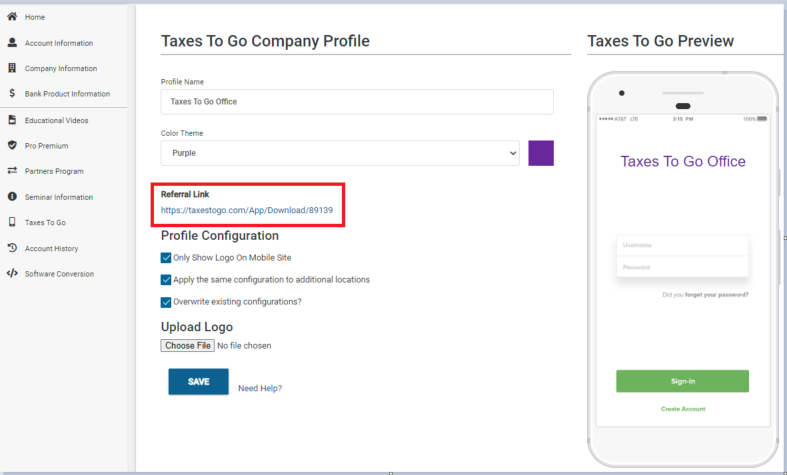 Profile Name - your name or your company name.
Color Theme - choose from six color themes.
Only Show Logo On Mobile Site - check this check box to show only the logo in the app and not show the Profile Name.
Apply the same configuration to additional locations - If you have multiple locations indicated in Account Hub's Location Manager, check this box if you wish to apply this profile to all locations. Leave it unchecked to allow each location to customize their own profile. (After checking the box, a second check box will appear confirming you wish to overwrite any existing Taxes To Go configurations those locations have made.)
Upload Logo - Select Choose File to upload your company logo (JPG, GIF, or PNG formats.)
When you are finished, click SAVE.
Note:  You will text or email the referral link to your clients so they can download and install your branded version of Taxes To Go. The link is case-sensitive.
Pro Tip: Click the referral link to open the web page that your clients will see when they select the link. You can also use this link to download the app to your own phone to test the app and see how it works.
For Additional Locations
If your tax business has multiple locations, you will need to setup the Taxes To Go configuration for each office you have. The referral link from the Taxes To Go configuration above is only for your main office. To set up configuration for each of your additional locations, go into Location Manager and choose Manage Locations. From the list of locations, you will see a phone icon. This will open that location's Taxes To Go configuration screen.

The configuration screen for each additional location will look exactly like the screen from your main location. Once you've clicked SAVE, that office's referral link will be generated.
Additional Information: